Mobile backrent – get money for your phone and still use it for a monthly rent
Do you remember the beginnings of mobile phones. At first it was a rarity and a convenience. Most people had a landline at home and only a few could afford a mobile phone. Over time, this became a trend, and so began the mobile era that continues to this day. Today, however, owning a phone is not a convenience, but rather a matter of course, without which you often do not even send a payment or pick up a prescription from a doctor. Most people have changed many phones over the years, and since everyone uses a phone today, it becomes a common waste. Use mobile backrent.
Get to know the mobile backrent
There are many phones on the market, some people are comfortable with simple push-button phones that can only make calls and send text messages. However, most people own a smartphone that is expected to playfully run a variety of applications and have a quality camera. However, such phones are not cheap and not everyone can afford them. The current time is unpredictable, the pandemic is just over, the energy crisis has come and many people are deep in their pockets. If you are in financial distress, your phone can help you financially.
All you have to do is use PLEDDU, ​​it is an application for mobile backrent. If you have a surplus phone, you can offer it to others for a regular rental. You can also sell your phone while continuing to use it for a monthly rent. Then it will be up to you whether you return the phone or want to buy it back. This application has already helped many people. Why look for money the complicated way when it's easy. The application itself recognizes your mobile device and offers you a specific price for it. You fill in the necessary data directly in the application so that the contract can be concluded. You don't have to travel anywhere, everything is handled online. The money will land in your account in a short time and you can continue to use your phone. Everything is clear and above all you have fair conditions. Finally, there is an application that can provide you with funds at any time with the help of your phone.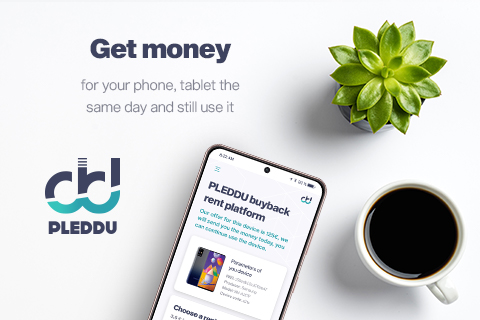 Tablet backrent
When tablets appeared on the market, they meant a great technological revolution. When people couldn't decide whether to be on the phone or on a laptop, a tablet was always the best choice. It is comfortable to operate and yet light and has all the necessary functions. Tablets come in many designs, basic tablets are sufficient for some, and for some large tablets are desirable, which have high performance and are an ideal alternative to a regular computer. Thats why we come with tablet backrent.
How does tablet backrent work?
You may have heard of the leaseback, but did you know that it can also apply to tablets? PLEDDU, an application that is focused on leaseback, will allow you to do so. The operator simply buys the tablet from you and you get the money in the account. You can continue to use your tablet and rent it. So you will pay a regular monthly rent and you can continue to use the tablet. Then it's up to you whether you want to buy the tablet back or rent another one. Financial distress is not uncommon today, it is meeting more and more people, especially with unexpected expenses. If this problem also affects you, all you have to do is install the PLEDDU application on your tablet and then you can easily solve this problem.